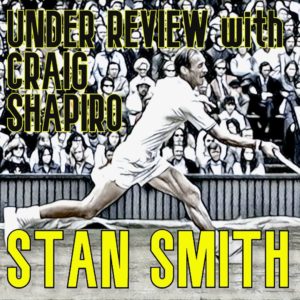 For the past 50 years, the name "Stan Smith" has been seen on nearly every street in the world. Written on nearly 40 million pairs of the iconic Adidas-made sneakers.
But perhaps more notable than the shoe is the man himself. Along with Arthur Ashe, Stan Smith is considered the essence of class who ushered in the open era, formed the ATP, and effectively created the tennis world that we know today.
He came up under the tutelage of Pancho Segura. Then played for USC. And in 1971 he won the US Open. The following year he won Wimbledon. And the year after that, in an act of solidarity with other players, he boycotted the All England Club.
He beat Laver, Nastasi, Connors, Newcomb and Ashe. And Jack Kramer put him in his book as one of the top 21 players of all time. Currently, he leads the tennis academy he cofounded, The Smith Stearns Academy, and is The President of The International Tennis Hall of Fame.
Former World #1, STAN SMITH tells us why he thinks Coco Gauff is the real deal. He explains how he helped make the player's union as strong as their country's federations during The Cold War. And he tells the story of how the famous shoe came to be.
We met up with Stan in Newport Rhode Island the weekend of the Hall of Fame induction ceremony.
(Recorded July 21, 2019. Released for Patreon Patrons September 6, 2019. Released October 30, 2019)
UNDER REVIEW is a podcast in which tennis insiders share unique stories and insightful perspective. For more information, please contact info@underreviewtennis.com
SUPPLEMENTAL MATERIAL:
For more UNDER REVIEW episodes featuring Tennis Hall of Famers, check out:
KEYWORDS:
Adidas, Adolf Dassler, Alex Olmedo, Anisamova, Arthur Ashe, ATP, Coco Gauff, Danielle Collins, Dennis Ralston, Duofol, Frances Tiafoe, Ilie Năstase, Jan Kodeš, John Newcombe, Nikola Pilić, Pancho Segura, Puma, Rafael Osuna, Reilly Opelka, Tennis Hall of Fame, US Open, USC, Vijay Amritraj, Wimbledon
Podcast: Play in new window | Download (Duration: 42:05 — 38.5MB) | Embed