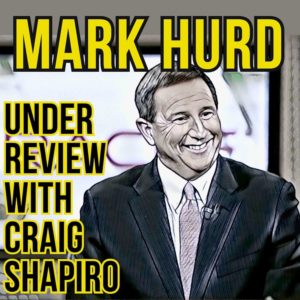 Former CEO of Oracle, MARK HURD loved tennis. In High School, Hurd battled it out with top-ten pros on the public courts in Miami Beach. In college, he played #1 at Baylor University. And while Chief Executive at Oracle, he helped forge one of the most significant relationships in the history of tennis between a corporation and the sport. 
We interviewed Mark this year at The BNP Paribas Open at Indian Wells, but we had some technical difficulties and the interview was cut short so we tabled it, hoping to get a better, more thorough one, down the road. Unfortunately, we never got that chance. Mark passed away last week at the age of 62. The man did so much for the sport he loved and so we decided to release this episode in his honor. 
On the episode MARK HURD discusses the state of college tennis, what Oracle is doing to advance the sport and what makes Larry Ellison so special.  
(Recorded March 9, 2019. Released October 22, 2019.)
UNDER REVIEW is a podcast in which tennis insiders share unique stories and insightful perspective. For more information, please contact:  info@underreviewtennis.com  
SUPPLEMENTAL MATERIAL:
For other episodes of UNDER REVIEW with Technologists, check out: Gordon Uehling [Ep25] 
Hurd's Obituary in The Washington Post.
KEYWORDS:
Eddie Dibbs, UTR, Indian Wells, Baylor, Kevin Kern, Larry Ellison, BNP Paribas Open, Miami, Title IX
Podcast: Play in new window | Download (Duration: 21:47 — 19.9MB) | Embed